A Modern Vision for the Modern Workforce
Now, more than ever, traditional recruiting has been upended by more nuanced labor categories, skills and a multicultural, multigenerational workforce that's reached historic levels of diversity. Especially in this low unemployment marketplace, clients trust and rely upon on us to simplify recruiting and hiring (See Client Testimonials). Since 2009, WinCorp Solutions provides effective solutions for our clients' hiring challenges. Clients depend on us to recruit with an array of People Solutions and delivery options because we're vertically integrated and have the infrastructure to scale for Inc 500 to complex MSP specific categories of FORTUNE 500 enterprise clients in contingent labor.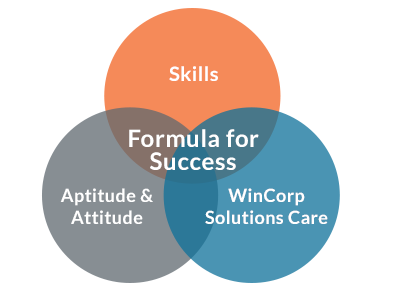 Solutions Tailored to Your Needs
Our secret? We concentrate on our core. Small shops, while committed to customer service, lack the resources to recruit in times of demand spikes and the talent pools needed to fill openings. Big box staffing companies often attempt to staff every labor category imaginable without specialization. Sized right, as a mid-sized organization, we know our niche and support those key niche categories with highly qualified workers, unparalleled client service, and fair rates.
Work Life Balance…Restored
The subject matter expertise of every WinCorp Solutions teammate is deep. On an interim consulting basis, we're absolutely confident that our people can hit the ground running and on an executive search basis we know our recruiters our deeply connected and experts at vetting.  In an era where managers struggle to overcome "time poverty," we help restore work-life balance and simplify recruiting by handling your staffing needs so you can focus on your goals – in and out of the office.
One Size Does Not Fit All
First, our unique vertically integrated infrastructure offers a one-stop service platform that enables us to handle nationwide requests of various divisions and user groups, various MSP Programs and VMS tools, staffing and contingent labor needs, direct hire services, specialized executive search requests, or "payrolling" identified/existing talent.
Secondly, we believe industry expertise matters and we stay clear from the big box company approach.  WinCorp Solutions solves complex talent equations by understanding the nuances of every industry and we match that experience with the correct teams in place.
Third, our teammates love us.  We have many testimonials of why they enjoy it at WinCorp Solutions, ranging from great projects, above industry compensation, skills, training, quick same day responses, life expense reimbursements, to great benefits, including health, dental, vision, 401K, vacation, sick pay, etc…
We know talent and quality matters most for our clients; but it is our investment in people, sound infrastructure, systems and tools, which allows us to have the edge on the war for talent.