WinCorp Solutions Background
When you want the very best products, customized to your needs, you seek out an artisan. We hope that when you need to hire the right person for a project or position, you seek us. At WinCorp Solutions, finding the most skilled person for specialized roles is our craft and trade. We believe people power companies to new levels. We help companies excel by finding the right people.
We operate a "Staffing plus, management consulting light" company. We are a vertically integrated company. This is a distinct benefit to our clients. With all of our "artisans" under our roofs, in the United States, we can move the hiring and interview steps seamlessly. Founded in 2009 in Irvine, CA, we at WinCorp Solutions are committed to solving the toughest hiring challenges for the Entrepreneur or Enterprise Hiring Manager. Today, more than ever, finding the most qualified talent is the *#1 challenge for companies of all sizes.
*Kiplinger 2018 newsletter on workforce labor shortage.
Our Oath to Our Clients
Our clients want a trusted partner who can deliver on all levels of staffing. You can trust us.
Our clients want to know that our services are fairly priced and can have confidence in our work. We are so confident that we guarantee our work.
Our clients have trusted thousands of projects/placements and then raved about us with numerous 5 star testimonials on Google+, Facebook, Indeed. We're proud to win many region, state and national awards in excellence in our industry. Under "Our Work" and "Careers" tab please read our Teammate and Client reviews. (See Client Testimonials)

How We Work
Modern hiring and talent acquisition involves more than hiring people with the proper skills and qualifications, it's about engaging individuals, creating hiring systems, understanding competencies and intricacies of on-boarding and retention.
– While production systems, marketing systems, and other systems exist at many companies, many companies neglect good hiring systems.
– There are no pressure salespeople. You pay nothing upfront. We're problem solvers and all our recruiters have degrees and rigorously trained.
– We take the time and discipline to fully analyze and scope needs upfront with our systematically designed processes and then move forward with precision and client alignment. While our service footprint is nationwide, our high-touch boutique service sets us apart.
Our success is built on trust and referrals of raving fans, both on the candidate placement side and client side. We are committed to our people. We believe our "teammate care" is a key area of differentiation. This is a major difference in our industry. Our teammates go all out (the "WinCorp Way") with exceptional work. We're a family owned and operated business who treats all of our clients' businesses as if it were our own.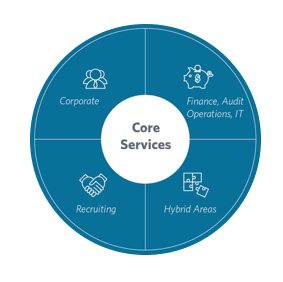 Tailor Fit for Emerging to Enterprise Clients
Operationally Efficient
Certified: SCMSDC
Certified: California Public Utilities Commission